There is always a little sorrow in the passing of an old year and the ringing in of the new. Mostly, for me it is the additional grey hairs that won't cover-up and the buying of new pants with every growth spurt of my children. This year is very much like 2004. I am so ready to say goodbye. The year started out crappy with my old job, it got better in the middle for a little while, and is ending on a sour note as well. May all of you enjoy your New Years Eve and be ready, 2010 is literally right around the bend.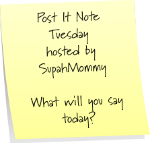 And now...brought to you by the sicky sticky herself.... SUPAH!
There is so much more that can be said but not summed up neatly in a sticky note. So I leave you with one last thank you. 2009 was not all that bad. When the worse of it was happening, I started reading your blogs. It brought joy and laughter into my life when all seems low and depressing. Thank you for your funny stories, Thank you for the good times, Thank you for your support and Thank you for being you!

Happy New Year

MaeRae